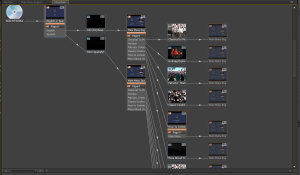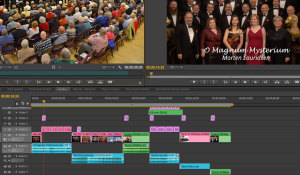 Capture your event, create a new project, or use existing footage
Multi-camera angle; High Definition
Teleprompter
Flo-lights
Multi-track audio recording
Great for educational, concerts, or simple promotions
These days, video plays a major part in marketing strategies. HD, widescreen, "viral" web videos are not just another tool for promotions – they can be an essential backbone. Disregarding this type of media in your campaign or project can leave you far behind the competition. Allusion Studios recognizes this need and has not only taken it on head-first, but has embraced it in our own marketing.
Let us film your event, create a whole new in-house production, or transform your existing video footage. From short simple YouTube videos, to five-camera angle High Definition live concerts (including full multi-track audio recording), Allusion Studios can do the job. The studio is even equipped with a teleprompter for reading scripts on screen like a newscaster.
VIDEO EXAMPLES
THE ALLUSION EDGE
Find out why Post Production and Sound Editing are essential components of Video Production, and specifically why Allusion Studios has the edge over our competitors.
Post-Production
Fast Non-linear Editors with no rendering wait times
Titles, Motion Bugs, Motion Lower Thirds
Edit Multi-Camera angles on the fly
Music Library to enhance your productions
DVD, Blu-Ray, H.264 for youTube
Post-production is crucial to the finished product. This process of putting a project together involves anything from simple edits to motion menus to motion blur lower thirds, all made possible with the latest high-tech equipment. Blazing fast 4- and 6-core 64-bit NLE (Non-Linear Editing) machines with the Mercury Engine and Cuda technology will ensure that no extra rendering is needed to see your last edit.
Sound Editing
Audio is pertinent to the final quality of a video. A movie with bad audio can completely destroy an otherwise fantastic video. When sound and music are properly done, the overall impact on a viewer is impressively different.
At Allusion Studios, our main focus has always been audio, so our approach to video projects is from an audio perspective. Our job is to decipher what will have the most impact on the viewer, so we can select the type of audio that is right for your video. For example, a concert video needs stellar balance and mixing, while an educational video needs a predominant speaking voice. We have the knowledge and ability to accomplish this, as well as perform additional audio edits like restoration, de-noising, sound effects, and full 5.1 surround sound mixing.
With our video productions you'll never have to worry about the impact your video will make. Our sound editing will reach out and grab your audience.
Jim Pavett has been editing videos for over 22 years, and has a unique ability to approach his projects from a holistic point of view. This includes audio, video, and post-production technology, all prior to shooting. His distinctive approach makes Jim's knowledge of sound, music, and voice unprecedented. Most video production houses are incapable of capturing live audio, syncing multiple live camera angles, and syncing from an audio perspective. They use one camera to shoot multiple times, and then do everything else in post-production. This type of recording may be okay for commercials, but not for most other projects. A major selling point for a video is the sound quality, and what saves the client money is shooting multiple angles at the same time. This means less sync time in post-production.
Contact us for a consultation.