Hear the Difference
We are Tucson Arizona's largest, most advanced recording studio and multimedia facility, offering high-resolution audio recording, mixing, mastering, production, restoration, media transfer, and video production, with commercially competitive picture and sound.
Welcome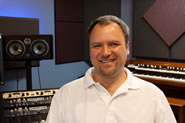 Hi, I'm Jim Pavett, owner and operator of Allusion Studios recording studio. Our passion is people and audio, and our purpose is to help people realize their vision. My clients benefit from my desire to create the best quality product possible. Doing what we love has allowed us to work on Grammy nominated records and a plethora of other intriguing projects including bands, voice over and video. You can be sure that our knowledge and expertise will never hinder the process and will allow you to achieve your vision by exceeding your expectations. Come in for a consultation...I'm confident you'll "Hear the Difference."
About Us
Recent News
Projects/Clients

Billy Stokes, Barry Sparks, Marc Storace, Jim Pavett, and Rich...

Studio News

I am proud to say I have just installed two...

Studio News

Mark Storace, known for being the lead singer of Swiss...